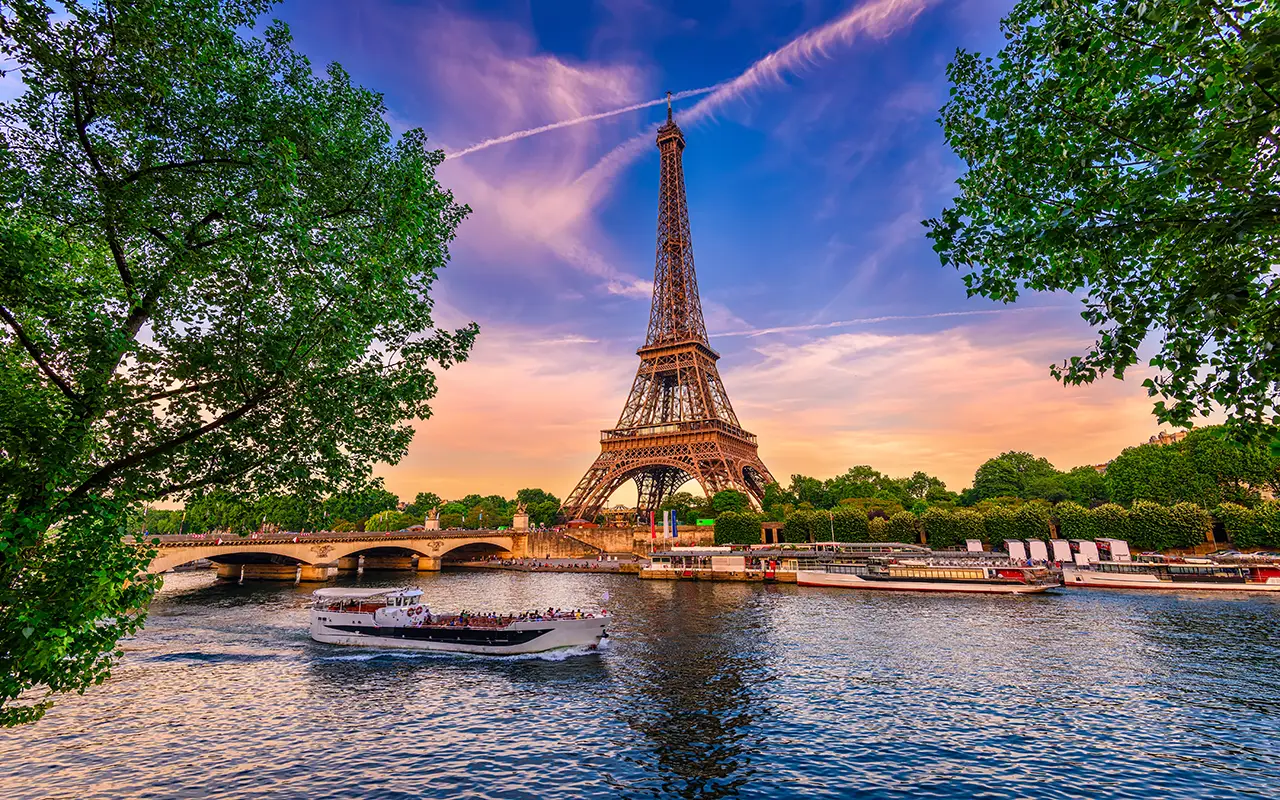 Overview of France
Situated between the Atlantic and the Mediterranean, France is surrounded by 6 countries, including Spain to the south, Germany, Switzerland, and Italy to the east. French is the primary language for its population of 67 million. With more than 90 million tourists a year, France is the most visited country in the world. Paris, its capital, is the world's second most visited urban center, drawing an average of 40 million annual tourists. With the River Seine as its heart, historic architecture, wide, gracious boulevards, and elegant public parks, Paris is widely considered the most beautiful and romantic city in the world. Famed for its bread, cheese, and pastry, Paris has the world's greatest concentration of Michelin starred restaurants, as well as the most visited museum-the Louvre, home of the world's most famous painting: DaVinci's Mona Lisa. Directly across from the Louvre, the Musée d'Orsay boasts the world's most extensive collection of Impressionist art. Centuries of French history are reflected in buildings and statues lining the picturesque streets, including the iconic Eiffel Tower and storied Notre Dame. A byword for style, Paris is also home to the world's most famous luxury fashion houses, including Chanel and Dior. Integral to Parisian life are the cafés, including those immortalized by writers such as Hugo, Balzac, and Sartre. Yet France has many more cultural and scenic offerings outside its capital, from the gilded 17th century Palace of Versailles to the thoroughly modern Disneyland Paris. The landscape of France offers skiing and hiking in its northern alps, picturesque vineyards, fields of lavender, and glamorous Mediterranean beaches in its south. One of four original signatories of the Schengen Agreement in 1985, France joined the Schengen area in 1995. Please note that France's overseas territories are not considered part of the Schengen area. This means that a Schengen visa will not allow you entry to French overseas territories, which have their own visa regimes.
France Schengen Visa Eligibility
Schengen visa eligibility for France includes third country nationals from the following states, who are excluded from visa-free to France/the Schengen area, and are therefore eligible to apply for a Schengen visa to France:
| | |
| --- | --- |
| 1. AFGHANISTAN | 53. LAOS |
| 2. ALGERIA | 54. LEBANON |
| 3. ANGOLA | 55. LESOTHO |
| 4. ARMENIA | 56. LIBERIA |
| 5. AZERBAIJAN | 57. LIBYA |
| 6. BAHRAIN | 58. MADAGASCAR |
| 7. BANGLADESH | 59. MALAWI |
| 8. BELARUS | 60. MALDIVES |
| 9. BELIZE | 61. MALI |
| 10. BENIN | 62. MAURITANIA |
| 11. BHUTAN | 63. MONGOLIA |
| 12. BOLIVIA | 64. MOROCCO |
| 13. BOTSWANA | 65. MOZAMBIQUE |
| 14. BURKINA FASO | 66. NAMIBIA |
| 15. BURMA/MYANMAR | 67. NAURU |
| 16. BURUNDI | 68. NEPAL |
| 17. CAMBODIA | 69. NIGER |
| 18. CAMEROON | 70. NIGERIA |
| 19. CAPE VERDE | 71. NORTH KOREA |
| 20. CENTRAL AFRICAN REPUBLIC | 72. OMAN |
| 21. CHAD | 73. PAKISTAN |
| 22. CHINA | 74. PAPUA NEW GUINEA |
| 23. COMOROS | 75. PHILIPPINES |
| 24. CONGO | 76. QATAR |
| 25. COTE D'IVOIRE | 77. RUSSIA |
| 26. CUBA | 78. RWANDA |
| 27. DEMOCRATIC REPUBLIC OF CONGO | 79. SAO TOME AND PRINCIPE |
| 28. DJIBOUTI | 80. SAUDI ARABIA |
| 29. DOMINICAN REPUBLIC | 81. SENEGAL |
| 30. ECUADOR | 82. SIERRA LEONE |
| 31. EGYPT | 83. SOMALIA |
| 32. EQUATORIAL GUINEA | 84. SOUTH AFRICA |
| 33. ERITREA | 85. SOUTH SUDAN |
| 34. ETHIOPIA | 86. SRI LANKA |
| 35. FIJI | 87. SUDAN |
| 36. GABON | 88. SURINAME |
| 37. GAMBIA | 89. SWAZILAND |
| 38. GHANA | 90. SYRIA |
| 39. GUINEA | 91. TAJIKISTAN |
| 40. GUINEA-BISSAU | 92. TANZANIA |
| 41. GUYANA | 93. THAILAND |
| 42. HAITI | 94. TOGO |
| 43. INDIA | 95. TUNISIA |
| 44. INDONESIA | 96. TURKEY |
| 45. IRAN | 97. TURKMENISTAN |
| 46. IRAQ | 98. UGANDA |
| 47. JAMAICA | 99. UZBEKISTAN |
| 48. JORDAN | 100.VIETNAM |
| 49. KAZAKHSTAN | 101.YEMEN |
| 50. KENYA | 102.ZAMBIA |
| 51. KUWAIT | 103.ZIMBABWE |
| 52. KYRGYZSTAN | |
Third party nationals from the following entities/territories are also required to apply for a Schengen visa: KOSOVO and the PALESTINIAN AUTHORITY.
Required Documents for France Visa
All documents required for your French Schengen visa must be completed/translated into French, English or Spanish. Applications for all Schengen visas to France will contain the following Basic Required Documents:
Valid passport
Passport sized photos
Fingerprints (biometric data)
Travel medical insurance
Materials related to your trip:

Reason for visit
Where you will stay (accommodation)
How you will fund your trip (finances)
Proof that you will leave France before your visa becomes invalid/expires. This is often in the form of a paid roundtrip plane ticket (proof of return).
Notes: For more information on what to include in your application, including a detailed description of required materials, please see: Basic Required Documents. Please note that you may have to submit additional French Schengen visa supporting documents related to your specific purpose for travelling.
France Schengen Visa Fee
The standard French Schengen visa fee for an adult is 80 Euros. Certain types of applicants (most students, children under 6) are exempt from all visa fees. To get a Schengen visa for France, you will likely have to submit a service payment with your visa application-this is a separate cost from the visa fee. Please note that these fees are non-refundable in the case of visa rejection.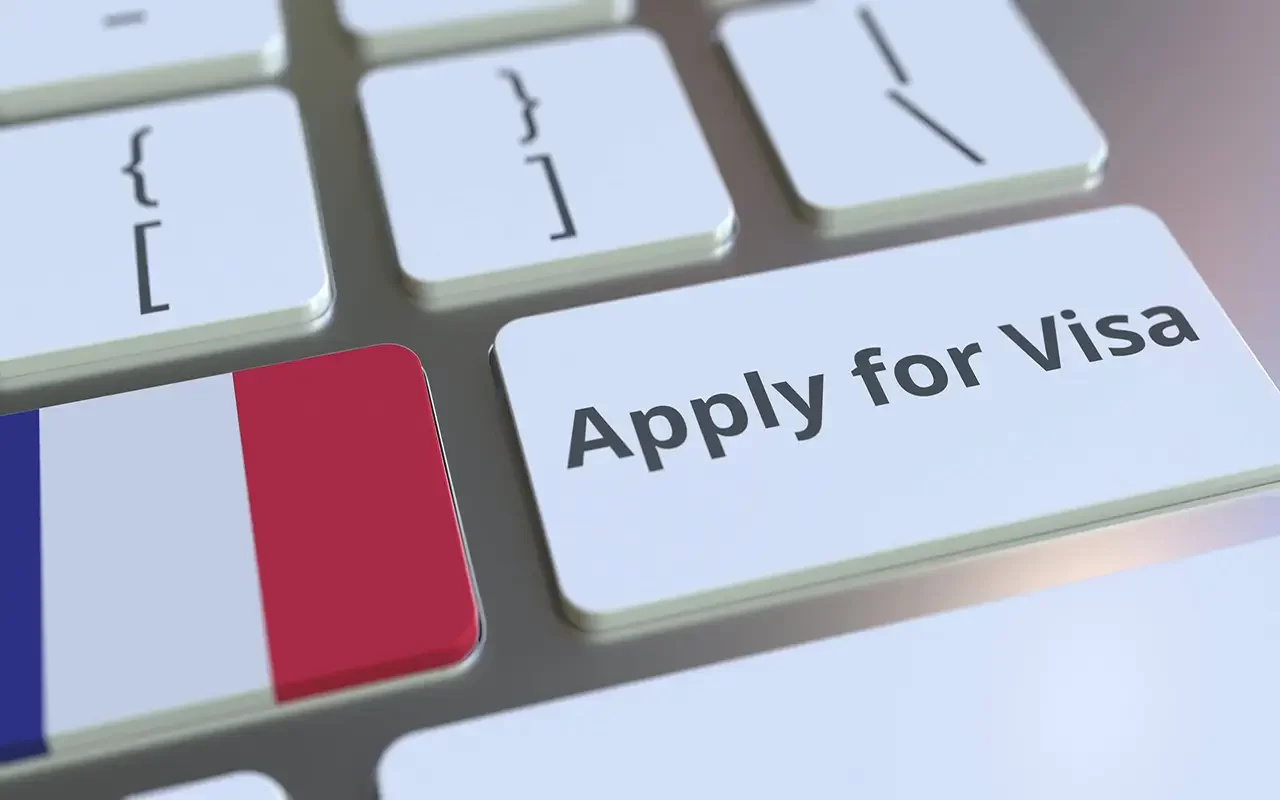 How to Apply for France Schengen Visa: Steps
Step 1: Determine your Purpose for travelling to France, which will determine the Type of visa you should apply for.
Step 2: Determine how many Entries to France/the Schengen area you need.
Step 3: Gather your Required Documents.

Step 4:

Schedule a france schengen visa appointment
(if applicable).

Most French consulates/visa centers require you to schedule an appointment in order to submit your visa application. Alternatively, you may be able to drop off your application without prior arrangement, so long as you do so during normal operating hours. Contact your consulate/visa center directly to find out if you need to schedule an appointment in order to submit your french visa application form.

Step 5:

Fill out your

application

.

Apply for your Schengen visa through France's online visa navigator (in addition to French and English, this method is also accessible in Spanish, Russian, Chinese, and Arabic) though this link. Once completed, print out both your completed application and your receipt. Submit this paper application copy, along with any other relevant supplementary documents, to whichever French Consulate/visa center you are applying through.

Step 6:

Pay the

application fee

.

Step 7:

Submit your French Schengen visa application (at least 15 days prior to travelling, not before 6 months).

Different French consulates/processing centers have different procedures for submitting applications. In almost all cases, applications must be submitted in person to the consulate/center you are applying through. When you submit your application, you will likely also be asked to submit biometric data (fingerprints). Children younger than 12 years are likely exempt from having their fingerprints collected. If you have previously submitted fingerprints (within the last 59 months), you likely will not need to resubmit them.
When to Apply French visa application form
Submit your application at least 15 days before you intend to travel, and no earlier than 6 months before you leave.
Where to Apply for French visa application
Applications for Schengen visas to France should be submitted at either a French Consulate or a visa application center that has a relationship with France.
You must lodge your application for a French Schengen visa in the country where you legally reside/are a citizen. Use this link to find out the consulate/visa center in your area and to make an appointment to submit your application.
In countries where there is no French consular presence, applications may be lodged via the consulate of a Schengen state representing French consular interests.
Processing Time for France Schengen Visa
Processing times for French Schengen visas vary depending on the time of year and your specific application, usually ranging from 15-60 days.
If your visa was approved:
Collect your visa and make sure the information it contains is valid and complete.
If your visa was denied:
If you receive a Schengen visa rejection for France, you have the right to an appeal, within 2 months of receiving your rejection.
Begin this process by picking up your standard issued-visa refusal form, which describes why your request was denied, and explains the detailed steps of the appeal process.
You should sign and submit your Schengen visa appeal in writing, in French.
You must first appeal to the French appeals board for visa refusal rulings: the Commission de Recours Contre les Décisions de Refus de visa.
Depending on the nature of your refusal, you may choose to take further action at the French administrative court.
Please note, you may have to pay an appeal fee, which is likely non-refundable regardless of the outcome of the appeal (positive or negative).
Finally, once you obtain your Schengen Visa for France, please note the following:
Your visa may be revoked if you do not notify the French Consulate/visa application center of any changes to your trip itinerary that occur after you have submitted your application.
Being approved for a French visa does not guarantee you entry to either France or the general Schengen area – you can still be refused entry to both places upon arrival.
Alternatively, you may have to show additional documents regarding your finances or accommodation in order to enter France/the Schengen area.
FAQs about France Schengen Visa
Who needs a France visa?
Tourists, students, athletes, visitors, and people traveling to France for multiple other purposes who intend to stay in the country for fewer than 90 days will need a visa for France, unless they are a citizen of a country on the "Schengen visa-free access" list. To see if your country is on that list (and if you therefore do not need a visa to visit France) click here.
How to get a Schengen visa for France?
Follow these abbreviated steps to get a Schengen visa for France:
1. Find your application destination (French Embassy/Consulate/Visa Application Center in your country of residence).
2. Select your French visa type and entry category.
3. Access the French visa portal to meet your online visa requirements and schedule your visa appointment.
4. Gather the physical copies of your required documents and materials.
5. Attend your Schengen visa appointment (at your application destination) to submit your complete application and biometric information (fingerprints and photos), pay your visa fees, and sit for a short interview.
6. Await a decision on your application.