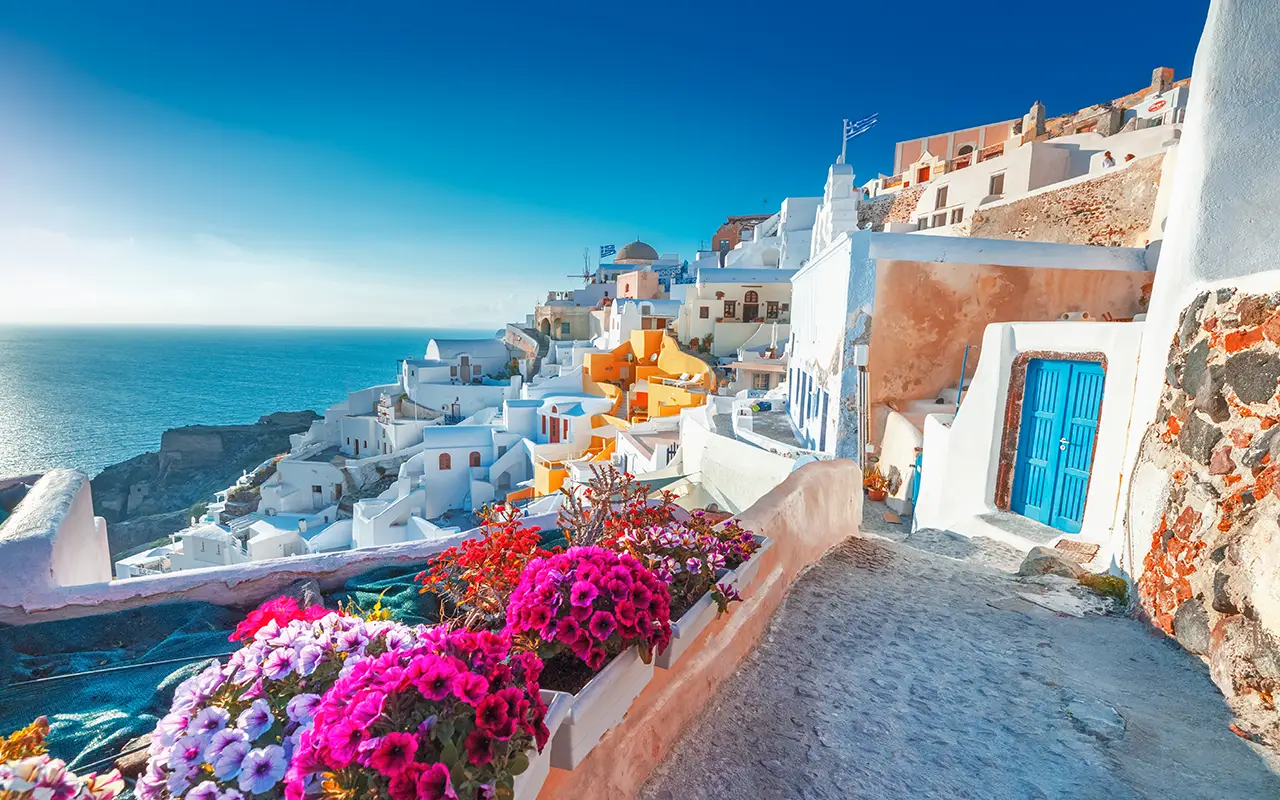 Overview of Greece
A peninsula extending into the Aegean Sea, mainland Greece is bordered by Turkey, Albania, Macedonia, and Bulgaria.
Renowned as the birthplace of western civilization, Greece has for centuries attracted travelers seeking to immerse themselves in the world of Homer, Plato, and Aristotle. One of the most ancient civilizations in the world, Greece offers thousands of years of history. Many of these marvels of classical antiquity are on display in Athens, its capital city, where visitors can tour the iconic Parthenon and the Acropolis. Beloved for its Mediterranean climate and cuisine; its hot and dry summers; its olive oil and feta cheese, Greece also has some of the best beaches in the world. Its thousands of islands attract millions of visitors to places like Santorini, with its blindingly white, blue roofed houses, Mykonos, with its beachside nightclubs, and Crete, home to the mythical Minoan palace. Its population of 10.7 million speaks Greek, and it takes the Euro.
Greece signed the Schengen agreement, in 1992, becoming part of the Schengen area in 2000. Greece is one of three Schengen countries (and the only non-island) which does not share a border with any other Schengen state.
Greece Schengen Visa Eligibility
Schengen visa eligibility for Greece includes third country nationals from the following states, who are excluded from visa-free to Greece/the Schengen area, and are therefore eligible to apply for a Schengen visa to Greece:
| | |
| --- | --- |
| 1. AFGHANISTAN | 53. LAOS |
| 2. ALGERIA | 54. LEBANON |
| 3. ANGOLA | 55. LESOTHO |
| 4. ARMENIA | 56. LIBERIA |
| 5. AZERBAIJAN | 57. LIBYA |
| 6. BAHRAIN | 58. MADAGASCAR |
| 7. BANGLADESH | 59. MALAWI |
| 8. BELARUS | 60. MALDIVES |
| 9. BELIZE | 61. MALI |
| 10. BENIN | 62. MAURITANIA |
| 11. BHUTAN | 63. MONGOLIA |
| 12. BOLIVIA | 64. MOROCCO |
| 13. BOTSWANA | 65. MOZAMBIQUE |
| 14. BURKINA FASO | 66. NAMIBIA |
| 15. BURMA/MYANMAR | 67. NAURU |
| 16. BURUNDI | 68. NEPAL |
| 17. CAMBODIA | 69. NIGER |
| 18. CAMEROON | 70. NIGERIA |
| 19. CAPE VERDE | 71. NORTH KOREA |
| 20. CENTRAL AFRICAN REPUBLIC | 72. OMAN |
| 21. CHAD | 73. PAKISTAN |
| 22. CHINA | 74. PAPUA NEW GUINEA |
| 23. COMOROS | 75. PHILIPPINES |
| 24. CONGO | 76. QATAR |
| 25. COTE D'IVOIRE | 77. RUSSIA |
| 26. CUBA | 78. RWANDA |
| 27. DEMOCRATIC REPUBLIC OF CONGO | 79. SAO TOME AND PRINCIPE |
| 28. DJIBOUTI | 80. SAUDI ARABIA |
| 29. DOMINICAN REPUBLIC | 81. SENEGAL |
| 30. ECUADOR | 82. SIERRA LEONE |
| 31. EGYPT | 83. SOMALIA |
| 32. EQUATORIAL GUINEA | 84. SOUTH AFRICA |
| 33. ERITREA | 85. SOUTH SUDAN |
| 34. ETHIOPIA | 86. SRI LANKA |
| 35. FIJI | 87. SUDAN |
| 36. GABON | 88. SURINAME |
| 37. GAMBIA | 89. SWAZILAND |
| 38. GHANA | 90. SYRIA |
| 39. GUINEA | 91. TAJIKISTAN |
| 40. GUINEA-BISSAU | 92. TANZANIA |
| 41. GUYANA | 93. THAILAND |
| 42. HAITI | 94. TOGO |
| 43. INDIA | 95. TUNISIA |
| 44. INDONESIA | 96. TURKEY |
| 45. IRAN | 97. TURKMENISTAN |
| 46. IRAQ | 98. UGANDA |
| 47. JAMAICA | 99. UZBEKISTAN |
| 48. JORDAN | 100.VIETNAM |
| 49. KAZAKHSTAN | 101.YEMEN |
| 50. KENYA | 102.ZAMBIA |
| 51. KUWAIT | 103.ZIMBABWE |
| 52. KYRGYZSTAN | |
Third party nationals from the following entities/territories are also required to apply for a Schengen visa: KOSOVO and the PALESTINIAN AUTHORITY.
Required Documents For Greek
Certain standard forms for Greek Schengen visas are available in a variety of languages. However, if your application contains materials written in a language other than Greek or English, they will likely need to be accompanied by an official translation into one of those languages. All documents required for your Greek Schengen visa must be completed/translated into English or Greek.
Applications for all Schengen visas to Greece will contain the following Basic Required Documents:
Valid passport
Passport sized photos
Fingerprints (biometric data)
Travel medical insurance
Materials related to your trip:

Reason for visit
Where you will stay (accommodation)
How you will fund your trip (finances)
Proof that you will leave Greece before your visa becomes invalid/expires. This is often in the form of a paid roundtrip plane ticket (proof of return).
Note: For more information on what to include in your application, including a detailed description of required materials, please see: Basic Required Documents. Please note that you may have to submit additional Greek Schengen visa supporting documents related to your specific purpose for travelling.
Greek Schengen Visa Fees
The standard Greek Schengen visa fee for an adult is 80 Euros. Certain types of applicants (most students, children under 6) are exempt from all visa fees. To get a Schengen visa for Greece, you will likely have to submit a service payment with your visa application-this is a separate cost from the visa fee. Please note that these fees are non-refundable in the case of visa rejection.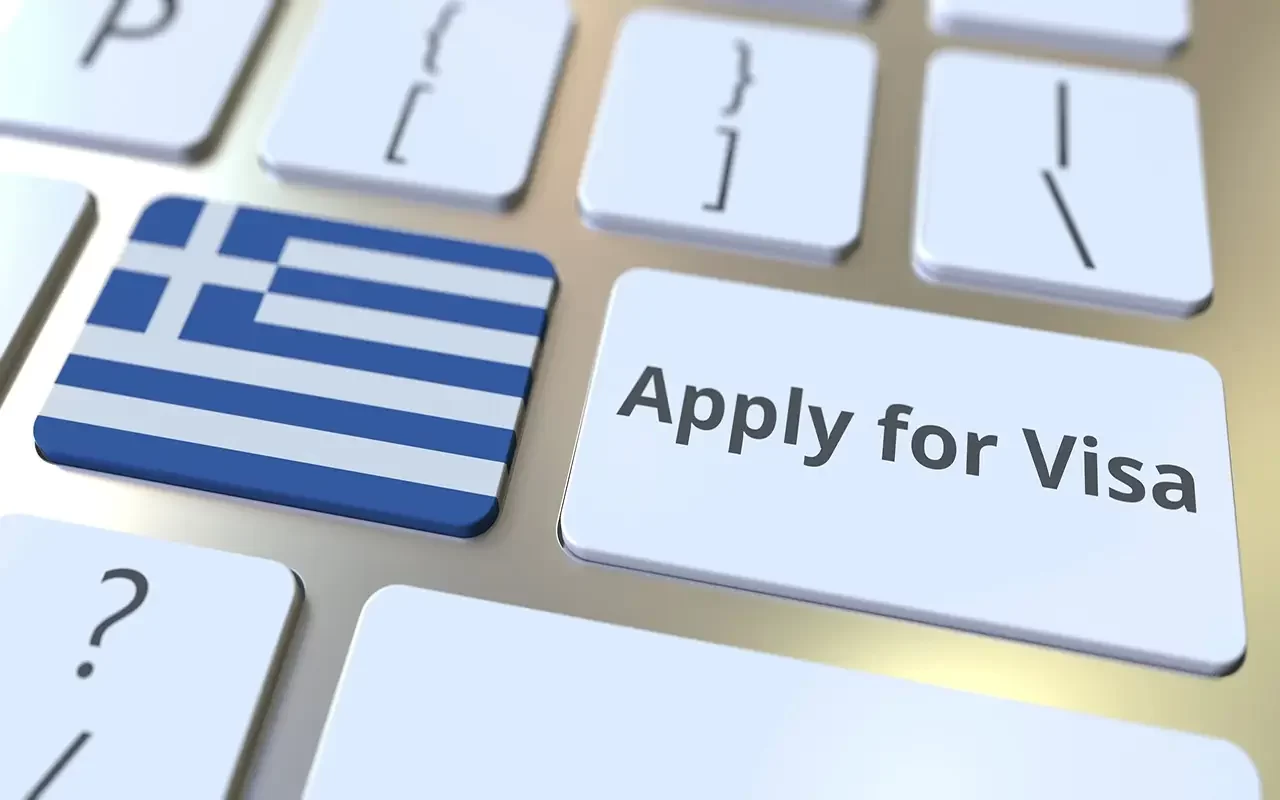 How to Apply for a Greek visa: Steps
Step 1: Determine your Purpose for travelling to Greece, which will determine the Type of visa you should apply for.
Step 2: Determine how many Entries to Greece/the Schengen area you need.
Step 3: Gather your Required Documents.

Step 4:

Schedule a Schengen Visa appointment (if applicable).

Depending on the location of the consulate/visa center you are applying through, you may have to schedule an appointment in order to submit your application. Alternatively, you may be able to drop off your application without prior arrangement, so long as you do so during normal operating hours. Contact your Greek Consulate/visa center directly to find out if you need to schedule an appointment in order to submit your application.

Step 5:

Fill out your

application

.

Different Greek Consulates/visa processing centers may provide different ways of accessing applications – you can download, complete, and print out an online Schengen application form

here

. Submit your paper application copy to whichever Greek Consulate/visa center you are applying through.

Step 6:

Pay the application fee.

Step 7:

Submit your Greek Schengen visa application (at least 15 days prior to travelling, not before 6 months).

Different Greek Consulates/processing centers may have different procedures for submitting applications. In almost all cases, applications must be submitted in person to the consulate/center you are applying through. When you submit your application, you will likely also be asked to submit biometric data (fingerprints). Children younger than 12 years are likely exempt from having their fingerprints collected. However, facial photo capturing will be required from the age of 5 years and above.
Please note, after submitting your application, you may be asked to return at a later date for a personal interview to provide further information/materials related to your trip.
When to Apply
Submit your application at least 15 days prior to the day you intend to travel, and no earlier than 6 months before you leave.
Where to Apply
Applications for Schengen visas to Greece should be submitted at either a Greek Consulate/Embassy or a visa application center that has a relationship with Greece.
You will likely have to lodge your application in the country where you legally reside/hold a residence permit. Click here to find Greek Consulates/Embassies in your area.
In countries where there is no Greek consular presence, applications may be lodged via the consulate of a Schengen state representing Greek consular interests.
Processing Time for Greek Schengen Visa
The Greek Schengen visa processing time is generally 15 days, although it can take up to 60 days in certain cases.
If your Greek visa was approved:
Collect your visa and make sure the information it contains is valid and complete.
If your Greek visa was denied:
If you receive a Schengen visa rejection for Greece, you have the right to an appeal.
Begin this process by picking up your standard issued-visa refusal form, which describes why your request was denied. Your letter of rejection will explain the detailed steps of the appeal process, including where to send it.
Please note, most Schengen visa appeals must be submitted within 3 weeks of receiving your rejection.
Finally, once you obtain your Schengen Visa for Greece, please note the following:
Your visa may be revoked if you do not notify the Greek Consulate/visa application center of any changes to your trip itinerary that occur after you have submitted your application.
Being approved for a Greek visa does not guarantee you entry to either Greece or the general Schengen area-you can still be refused entry to both places upon arrival.
Alternatively, you may have to show additional documents regarding your finances or accommodation in order to enter Greece/the Schengen area.
FAQ about Greece Schengen Visa
How to get Greece visa?
Get a Greece visa by selecting your Schengen visa type (tourist, medical, business etc.) and entry category (single, double, multiple) submitting your required documents and materials (including the basic Schengen visa application form, passport, supporting documents) at your local Greek Embassy/Consulate/visa application center (application destination). At your application destination you will hand your application in as well as meet the physical requirements for your application (submit to an interview, have your fingerprints and photo taken, pay your visa fee—80 EUR—etc. Once you have concluded your visa appointment, the Greek Embassy will process your application in anywhere from 16-60 days.
How long does Greece visa take?
Anywhere from 15-60 days.
Which visa is required for Greece?
The Schengen visa is required for trips to Greece lasting between 1-90 days. Foreigners looking to spend more time in Greece should look into national Greek visas (in the long-stay category).