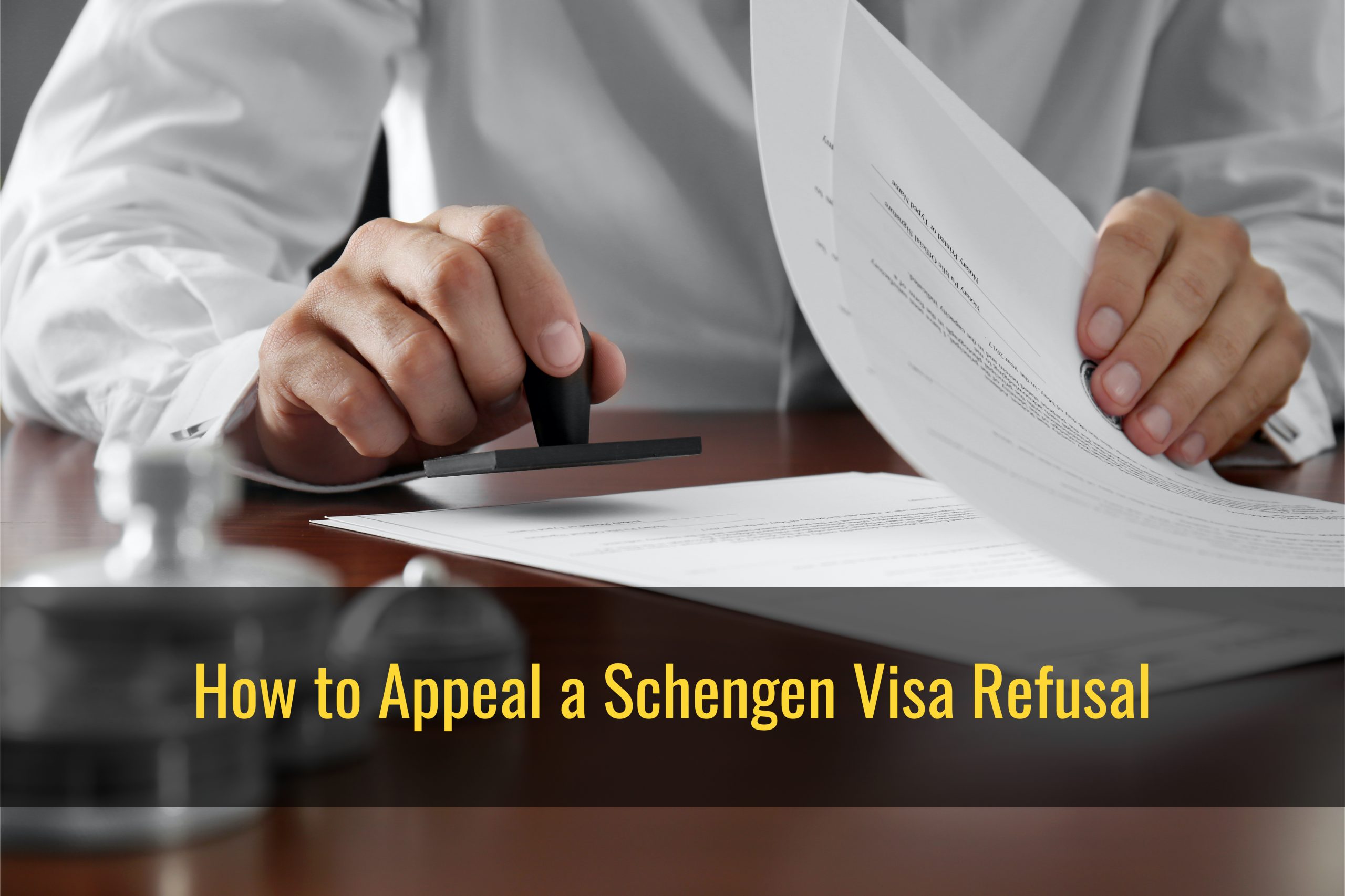 Published on:
01 December 2020
So your Schengen-visa application was rejected. What's next? It's important to remember that being rejected for a Schengen visa is not the end of your Schengen journey. Anyone who is denied a Schengen visa after applying for one has the right to appeal the refusal. Read on for more information about what to do if your Schengen visa is rejected. The following blog will provide an overview of the Schengen visa refusal appeal process and include basic information like the Schengen visa appeal processing time, as well as guidelines for how to write an appeal letter.
What to do if your Schengen Visa is Rejected
You have several options if your Schengen visa is rejected:
Apply for a new Schengen visa

A common question newly rejected individuals and couples ask is "Can we apply for a Schengen visa again after rejection?" The answer to this question is always yes.
Therefore, instead of appealing your rejected Schengen visa (or if your appeal fails), you could simply apply for a new Schengen visa.
While you might feel overwhelmed by starting the whole process over again, this could be a good option for those find themselves in a stronger position (either financially or professionally) after having already submitted an application. (Keep in mind that Schengen visa appeals cannot contain new information, so if you recently got a larger salary that will increase your ability to afford your trip, you will only be able to include this info on a new Schengen visa application.
This option is also good for those whose travel plans have changed, and who therefore may want to apply for a Schengen visa through a different Schengen country. For example, say you applied for a Business Schengen visa to Germany to attend a professional meeting, but after you applied the venue was changed to Spain (making Spain the country in which you will be spending the most time on your trip). As you cannot change countries on an already-submitted Schengen visa application, you will have to apply for a new Schengen visa after you are rejected on your original application.

Apply for a National Visa to a Schengen country

National Visas are non-Schengen visas. Because of this, and because the visas are country-specific, the application process is therefore entirely separate from the Schengen visa process.
This is a good option if you are only trying to go to a single country in the Schengen area. For example, if you applied and were rejected for a Schengen visa from France, you could apply for a National Visa from France.
Your Schengen rejection will have no bearing on the National Visa approval process.

Appeal your rejection

The path most people who are rejected take, this is the easiest and most basic step for those faced with a Schengen visa rejection. The process will be discussed below:
Schengen Visa Refusal Appeal Process Overview
All Schengen visa appeals must be sent to/processed by the same country that issued your rejection. For example, if you applied (and were rejected for) a Schengen visa to Germany, you should file your appeal with the same German Embassy/consulate you originally applied through.
While all Schengen countries offer rejected applicants the right to appeal, different Schengen countries have different appeal processes.
The specific process you must undertake should be outlined in the rejection letter you receive. All rejected applicants receive a letter from the country that rejected them, explaining why they were rejected and how to proceed with the appeal process.
Letters should be sent to the address specified in the rejection letter.
Different countries also have different deadlines for processing rejections. Most appeals should be submitted within 15-30 days of receiving your rejection letter.
Applicants who appeal will likely be subject to a fee. Relatives of EU citizens/certain other applicants may be exempt from this fee.
Steps to Appeal:
1. Receive your rejection letter
What is a refused letter? Remember that the Schengen visa refusal appeal process begins once you receive your rejection (or refused) letter. Follow the specific steps outlined in your rejection letter, which will also include a timeline for the appeal process.
2. Write your appeal letter
How to write an appeal letter: Schengen visa appeal letters should mainly address the reason why you are appealing (essentially why you believe the initial rejection was wrong).
Please note that you cannot include as a reason any materials/information absent from your original application. For example, if, after submitting your application, you received a salary increase that will better position you to financially afford your trip, you cannot submit this as evidence that your rejection should be reversed.
You can only work with the information that you previously included on your application, which means that Schengen visa appeals are generally arguments about interpretation – how you feel the evidence you provided was incorrectly interpreted by authorities who rejected you. You should therefore strive to make a compelling argument as to why the rejection is incorrect, using the information you have.
Schengen appeal letters are generally accepted in English or the official language (or recognized language) of whatever country you are applying to (certain embassies may accept other additional languages).
For example, if you are applying to appeal a Schengen visa rejection from the Netherlands, your appeal may be written in Dutch, German, English, or French.
If you wish to write your appeal in a language not accepted by the embassy/consulate you are applying through, you may do so, so long as you also supply a certified and signed translation of your appeal into one of the accepted languages.
Appeals should either be type-written, printed out, and signed by the applicant, or written in clear handwriting (and also signed by the applicant).
3. Mail (or drop off) your letter
Mail (or drop off in person) your appeal to the address specified in your visa rejection letter. Most initial appeals are sent to the Ministry of Foreign Affairs of whatever country you applied to. It is this ministry that considers your appeal.
Make sure you mail it within the timeline (as specified in your initial letter).
Make sure you include your Schengen visa appeal fee (if requested within the original rejection letter). Appeals that fail to include mandatory payments will not be considered until payment is rendered by the applicant.
4. Receive the results of your appeal
If your appeal is approved:

If you receive a Schengen visa appeal success, you may proceed with your Schengen trip.

If your appeal is rejected:

You should be able to file a second, final appeal, to the country's administrative court or other administrative body.
Schengen Visa Appeal Processing Time
For those wondering, "how long does Schengen visa appeal take?" The answer is usually under 60 days, although different countries have different processing times.
Can we apply for Schengen visa again after rejection?
As previously stated, individuals and couples may apply for a Schengen visa after being rejected.
As you know by now, the Schengen visa appeal process can differ from country to country. To help you visualize this process better, we will provide an overview of what the appeal process would be like for someone who receives a Schengen visa rejection from the Czech Republic.
How to Appeal a Schengen Visa from the Czech Republic
1. Receive refusal
Receive your standardized rejection letter, read the directions, and compose a written response within 15 days.
2. Submit your appeal
Send your appeal to whatever Czech Embassy/consulate you applied through. They will send it to the Czech Ministry of Foreign Affairs (MOFA), which will issue a decision.
Note that the Czech Republic allows applicants to either mail or drop off appeals at the consulate/embassy-so long as you personally submit them.
Your letter should follow the guidelines outlined above and contain your signature.
Most appeals for the Czech Republic must be inclusive of a €60 fee (however, personal relatives of either Czech citizens or EU citizens are usually exempt from paying any appeal fee).
3. Receive a response to your initial appeal
The Czech MOFA will take a maximum of 60 days to respond to your appeal.
The results of your appeal will be relayed to you by the Czech Embassy/consulate through which you submitted your original appeal.
If your appeal is approved:

Congratulations! You're ready to finish planning your trip to the Czech Republic.

If your appeal is rejected:

If your initial appeal is rejected, you have the option of filing a second appeal.
4. (If rejected) File the second appeal
After receiving your first rejection, you have 30 days to file a second appeal, via judicial review.
This judicial review will be heard in a Czech district court. You would file the appeal in the court under whose authority you would be in the event that you successfully entered the country and had to declare your residency (so the court nearest your stated would-be residence in the Czech Republic).