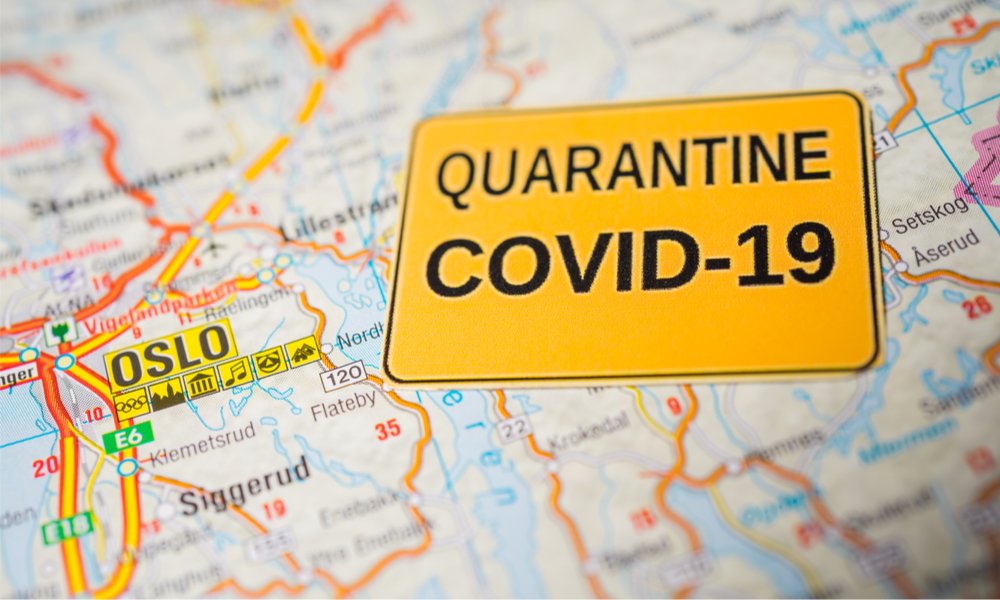 Published on:
23 November 2021
The Ministry of Health and Care Services of Norway has announced changes in the requirement of travel quarantine for several regions of the Schengen Area.
From Monday 22 November 2021 at 12 am, people coming from the provinces of East Savo (Finland) and Östergötland (Sweden) will no longer be required to isolate themselves upon arrival in Norway.
However, people coming from the region of Länsi-Pohja in Finland, and the regions of Blekinge, Halland, and Värmland in Sweden, will have to quarantine for 10 full days upon arrival in Norway as they've recently changed from orange to red.
Other Swedish regions that require travel quarantine are Gävleborg, Kalmar, Norrbotten, Skåne, Stockholm, Södermanland, Uppsala, Västmanland, Västra Götaland, and Örebro. Dalarna, Gotland, Jämtland, Jönköping, Kronoberg, Västerbotten, Västernorrland, as well as the recently added Östergötland, are the Swedish regions that are exempt from travel quarantine.
In Finland, only 8 regions are considered safe by Norway's Ministry of Health and Care Services. These are Åland Islands, Kainuu, Lapland, North Karelia, North Savo, Satakunta, South Savo, Vaasa, and the new addition to the list of orange regions, East Savo.
The Finnish areas that will require travel quarantine are Pirkanmaa, Central Tavastland, Southwest Finland, Helsinki-Uusimaa, Kymmenlaakso, Central Finland, Central Ostrobothnia, North Ostrobothnia, Päijat-Häme, South Ostrobothnia, South Karelia, and Länsi-Pohja (new).
Norway's Ministry of Health has also introduced the requirement of travel quarantine for a few islands and archipelagos that recently changed from orange to red: The Canary Islands (Spain), Corsica (France), and Madeira (Portugal).
These areas will be added to other islands that are subject to the requirement of travel quarantine: The Balearic Islands (Spain), and the Greek islands of Crete, the Southern Aegean Islands, the Northern Aegean Islands, and the Ionian Islands.
The islands and archipelagos that Norway classifies as green and orange (meaning that no travel quarantine requirement applies to them) are Sardinia (Italy), Sicily (Italy), and The Azores (Portugal).
In the case of Denmark, the whole country will continue to be considered at risk and require travel quarantine, including the North Atlantic administrative regions of Greenland and the Faroe Islands.
Among other European countries out of the Nordic region, only France, Italy, Malta, Monaco, Portugal, San Marino, Spain, and Vatican City are not required to travel quarantine in Norway. Cyprus, Luxembourg, Poland, Romania, and Switzerland are all red, while Andorra, Belgium, Bulgaria, Estonia, Greece, Ireland, Iceland, Croatia, Latvia, Liechtenstein, Lithuania, the Netherlands, Slovakia, Slovenia, the UK, the Czech Republic, Germany, Hungary, and Austria are all dark red (meaning that people coming from these countries will be required to quarantine in Norway, even if they only visit them briefly as in a layover).
As always, grey and purple areas will continue to require travel quarantine upon arrival in Norway, as well as a negative COVID-19 diagnostic test and entry registration. Grey and purple areas include Argentina, Australia, Bahrain, Canada, Chile, China, Colombia, Hong Kong, Jordan, Kuwait, Macau, Namibia, New Zealand, Peru, Qatar, Rwanda, Saudi Arabia, South Korea, Taiwan, the United Arab Emirates, and Uruguay.
All of these lists are made according to the infection rates of each country or area, whose statistics are checked on a weekly basis by the Norwegian Institute of Public Health. The organism prioritizes the evaluation of the COVID-19 situation in the Nordic region, countries of the European Union, selected archipelagos in Europe, and selected territories of the EU's list of third countries.
After each assessment, The Ministry of Health and Care Services decides on easing or enforcing entry and travel restrictions to the Norwegian territory.